Frequently Asked Questions
I'm more than happy to answer any and all questions you might have about your wedding photography, needs for the day, weekend collections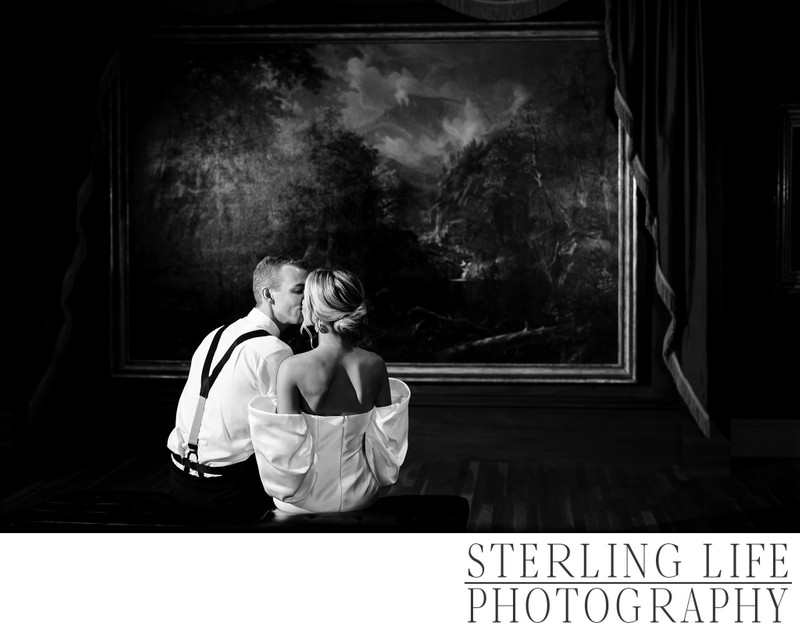 The above
photo was taken at The Chrysler Museum of Art in Norfolk, VA.
What Areas do you service?
Although I reside in Virginia Beach, Virginia, I shoot weddings all over the state. Some of the most common places I work are Richmond, Charlottesville, Washington D.C., and Hampton Roads. I've traveled up and down the east coast in several states documenting weddings. I love to travel and see new places!
Do you offer a second photographer?
Yes! You have the option to add a second photographer. While I have photographed many weddings alone, I understand that some couples would like to have alternate viewpoints and additional photos of guests and reception details. that is where a second photographer can be beneficial. I work with 3 main second shooters depending on location and availability. I trust them all immensely and they have similar yet complementary shooting styles to mine.
How much coverage do we need?
Coverage can vary for each wedding. It really depends on what aspects of the day you are wanting to document. I am happy to talk through what you are looking for and help you figure out the coverage you need. I have photographed all types of weddings, each with individual needs and photo requirements. I am here to help as much as I can. I have seen it all and have a deep understanding of what goes into time management on a wedding day. I truly feel that more time does help you to feel more relaxed throughout the day, as you won't be rushed to squeeze everything into a set time. Leading up to the wedding, we will build a timeline of the day for you so that we can make time for everything that you want - photos that are important to you and the way you want your day to be documented. You can learn more about choosing ceremony times and building a perfect timeline here.
How Many photos do we get?
The number of photos delivered to couples depends on quite a few things such as coverage, number of photographers, bridal party size, and guest count. I'm happy to talk to you more about your day and give you an idea of how many images you expect in your gallery.
Do you edit the images?
All images are hand edited by me. I currently do not outsource editing so that I can give each couple a consistent feel to their images. while all images are edited for color and exposure, some images will be pulled for artistic edits as well.
Are you insured?
Yes! I have liability insurance and can provide your venue with a certificate if need be. Note - it may take up to 48 hours to get a copy of your certificate for the venue. I also have my business license if you happen to need a copy of that as well.
How Much are travel fees?
Travel is added on for any weddings outside 60 miles of Virginia Beach, Virginia. Travel costs depend on the location of the wedding.
How Long does it take to view our images?
Your online private gallery of images will be ready 4-6 weeks after your wedding, often sooner depending on the time of year. I will pull 25-40 of my favorite images for sneak peeks just one week after your wedding via social media. You can also add on rush processing of your entire gallery for an additional cost.
Will you photograph the rehearsal dinner?
Sure! Depending on availability, you can add on rehearsal dinner coverage for an additional cost.
How do we book you?
Once you've decided that we will be a good fit, reach out as soon as possible to reserve your date! All calendar dates remain open until the contract is signed and the retainer is paid. This ensures that I will not take on any other commissions for your date. Most couples book with me 6 months to a year before their wedding.
Ready to talk more about your wedding?
Me too! Let's get connected!